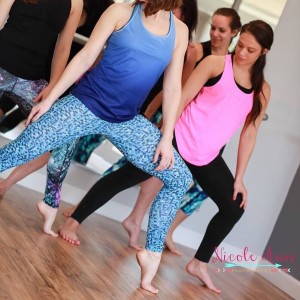 Q: Do I need any ballet, pilates or yoga experience to take the classes?
A: No. Our classes are designed for all levels from beginner to advanced.  Modifications are offered for most exercises.
Q: What will we do in a barre class?
A: Each class includes elements of ballet, cardio, free weights, stretching and mat exercises.  It is a full body workout that is harder than it looks, but it is low impact and will get easier over time.
Q: Do I need to bring anything to class?
A: No. We provide all the equipment you need from mats to weights to balls.  We do ask that you bring water to stay hydrated throughout the class.
Q: What should I wear?
A: Please wear comfortable and breathable workout clothes.  Tighter fitting clothing is best for instructors to ensure proper alignment and form, but whatever is comfortable for you.  The class can be done in barre socks or bare feet.  We do sell barre socks at RBS.
Q: What if I have an injury?
A: Please get clearance from your doctor for any workout that you may choose.  Be sure to tell your instructor if you have any chronic or acute injuries and we will work with you to provide the best barre class possible.
Q: Do I need to register in advance online?
A: Our class size is limited so we strongly recommend you register in advance online to secure a spot in the class.  Classes may be cancelled if there are not enough participants.  Please use MindBody Connect to sign up and create an account.  All clients must have an online account to attend class as it requires you to sign our liability release.
Q: Do you have a cancellation policy?
A: Yes, we have a 6 hour cancellation policy. No shows and cancellations within the 6 hour timeframe will be charged in full.  This policy helps our instructors to prepare for class in a timely and efficient manner.If you know you will not be able to attend a class, please cancel your reservation online at your MindBody account.  You do not need to email the studio when you cancel.  Please visit our CANCELLATION POLICIES page for more detail.
*Instructors also reserve the right to cancel a class that has 3 people or less.
Q: How does the waiting list work?
A: We strongly suggest you sign up for the waitlist if a class is fully booked.  As a waitlister, you will automatically be added into a class (in first come first serve order) if someone cancels their reservation.  Please keep an eye on your email as you will be notified via email if you made it into a class.
Not finding what you want? Reach out directly through our Contact Us page.