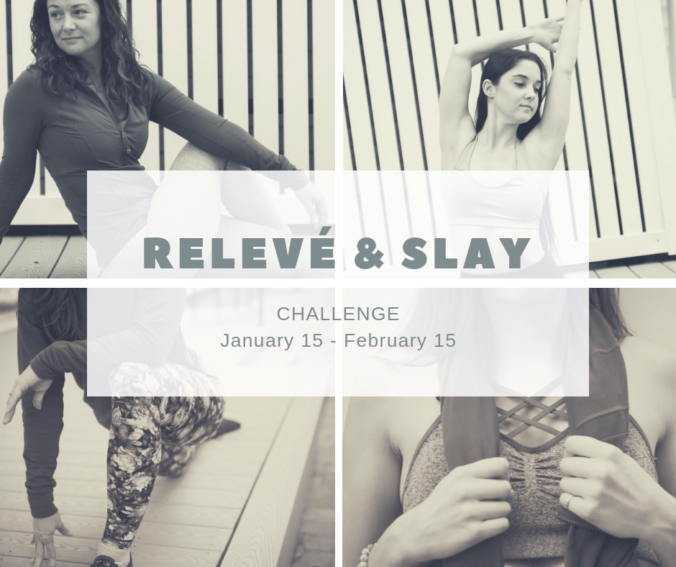 Releve and SLAY Challenge 2019
Buy the Releve & SLAY Package TODAY!
Want to use your current pass to sign up? Email relevebarrestudio@gmail.com letting us know you're in!
What is it?
A month of rising up and slaying at the barre by building strength, listening to your body and making mindful nutrition choices.
Why do it?
Because you deserve it! We put so much pressure on ourselves to look a certain way, eat a certain way and to think a certain way. This challenge will help you to feel good about yourself as a whole and to help you be more mindful about the daily choices you make in fitness and nutrition without beating yourself up. And most importantly have FUN while doing it!
How do I "Releve and Slay?"
MOVE: Complete 16 BARRE (BUTI and 11:11 The Practice) classes in 30 days from January 15th – February 15th! All 16 classes must be completed within the timeframe.
NOURISH: Once you sign up for the challenge, you will become part of an exclusive "challenge only" group where we will provide mindful nutrition options, recipes, journal prompts focusing on healthy eating habits and NOT restricting your diet.
GROW: Track your success! We will keep a recognition board for who's on track to meet the challenge.
How much does it cost?
You can pay up front and buy the Releve and Slay Unlimited monthly package for $170 (special challenge packages start on January 15th and expire on February 15thth). ALL PARTICIPANTS are invited to a challenge only Beyonce Barre Specialty Class in February – this specialty class is included in this package price.
OR
You can pay per class ($15/class). You may use any existing pass or package credits that you already have. This does not include the Beyonce Barre Specialty Class – this class is $20. Specialty class is FREE for RISE UP Squad members!
***All participants who complete the challenge will be entered into a raffle to win a gift basket including Releve swag and more!